Why not hire one of our Heapey skips today?Leyland Skip Hire have a wealth of experience and knowledge so if you seek advice about which skip will suit your needs best, look no further, as our team of experts are always happy to help.
For domestic skip hire in Heapey, we can obtain any necessary paperwork required to enable the safe disposal of waste material. If you want to keep your skip on the road, we can visit your local authority and attain a permit on your behalf. The domestic skips we have available in the Heapey area range from 2-yards to 6-yards, accommodating for the waste your home renovation or garden clearance generates!
If however you're looking for Heapey skip hire for your business or immense renovation project, one of our commercial skips can make light work of waste disposal. Our skips are extremely cost-effective and guarantee you'll receive excellent value for money! Our commercial skips start at 8-yeard and go all the way up to 40-yard roll on roll off skips. So why not take advantage of our commercial skips for your businesses waste disposal needs.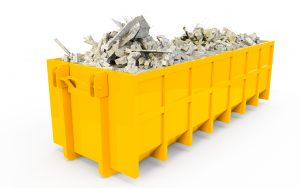 Frequently Asked Questions
Are the contents of the skip recycled?
At Leyland Skip Hire, we ensure that we always do what's best for the environment by recycling almost all of the waste that we dispose of. If something has the ability to be recycled, then we will do so, which accounts for around 90% of the waste that we deal with during our Heapey skip hire service. We ensure that we do this to give peace of mind to our customers that we are disposing of their waste in an ethical way, and one that upholds our company values of high quality service.
With the waste that cannot be recycled, we always ensure that we take it to the relevant place for it to be disposed of correctly. You can be rest assured that our skip hire service in Heapey goes about their business properly and to the letter!
How do I book a skip?
Booking a skip to come directly to your door has never been easier when using our skip hire Heapey service! Simply book a skip online now by using our website. Here you are able to pick the date that is most convenient of the ones that we have free, then you can select what time is best for us to deliver your skip, as well as where we should deliver to, and how big you should want your skip to be. Then, let us do the rest, and your skip will be guaranteed to be at your door at the time you requested, it's as easy as that!
You can also book a skip by calling a member of our friendly skip hire in Heapey team on 01772 957 509, to discuss any specific requirements you may have. This allows you to state if we will have to put the skip on your private land or on a road side. As this land is owned by the council, you will need a permit to do this, but fear not as the team at Leyland Skip Hire can do this for you! Leaving you to sit back and relax until your skip is with you.